Negentropic Fields – Book
"Negentropic Fields" book is OUT! Condensing the joint curatorial effort of INTER-MISSION and formAxioms, and designed by Currency, the book (500+ pages) reveals the making of the platform and the curation of the archives that led to the conceptualisation of the immersive environments.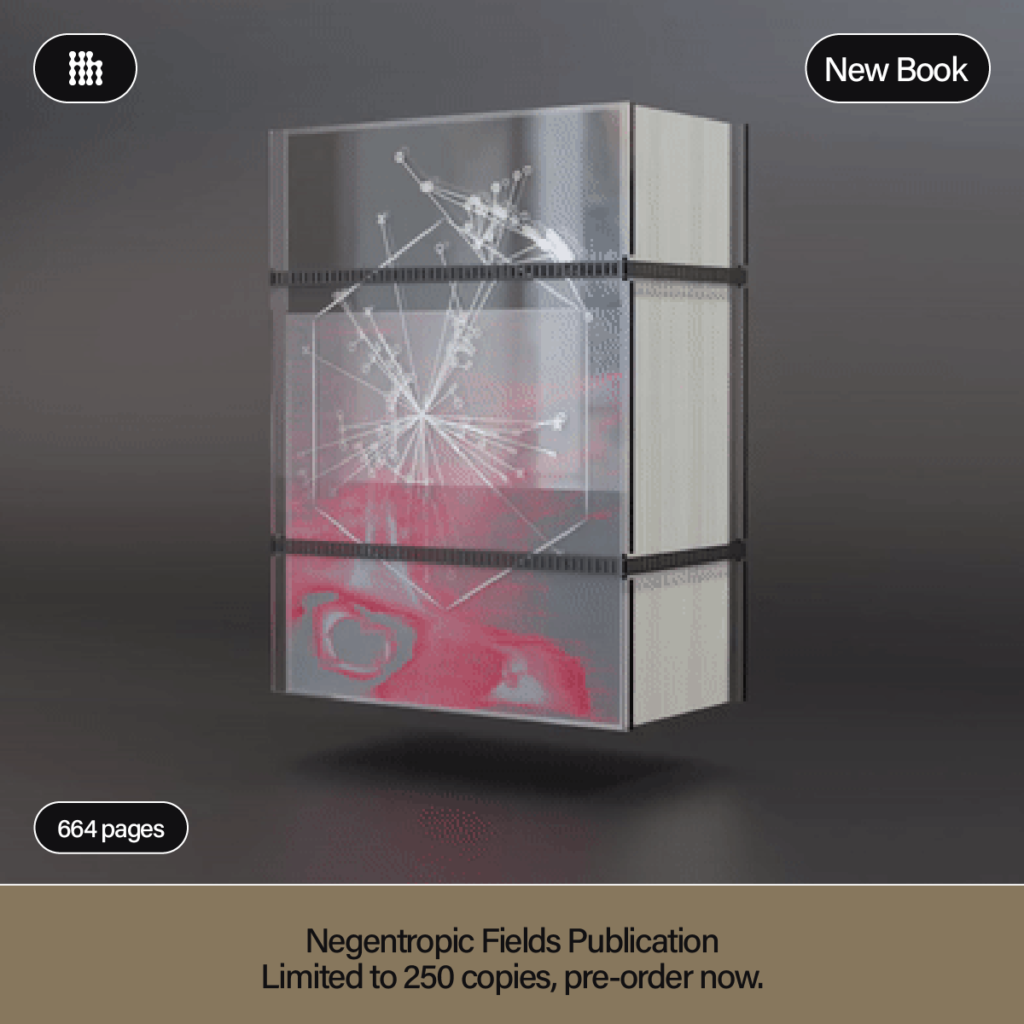 It is filled with textual contributions that gravitate around media-philosophy and art… post-post-contemporary curatorial practices, artist collectives, platforms, negentropy, multiplicity, cognitive dissonance, desire, xeon-rationalism, xeno-poetics, algorithmic templexity, digital/data-driven art, transformation of temporality in the digital, the phenomenon in virtual reality, performance in new media, agency and subjectivity in the digital, psychopathologies of the digital, the virtual and ideology. The book is a prototype of curated knowledge attempting at formalizing alternative modes of existence, resistance, heresy, attitudes towards hybrid (digital and physical) times and space, poetic stances that look and that attempt to alter the actual parameters of what is called the "world".
ISBN: 978-981-18-4344-0
TITLE: Negentropic Fields
AUTHORS, EDITORS: INTER–MISSION and formAxioms
MORE INFO ABOUT WHAT MADE THE PLATFORM, EXHIBITION AND THE BOOK.
"Negentropic Fields" (https://negentropicfields.info/) A project co-curated by INTER–MISSION (Urich Lau and Yue Han Teow) and formAxioms (Eva Castro and Federico Ruberto)
Exhibition Duration, Time and Venue:
4 December 2020 – 5 February 2021, 10AM – 7PM ANTEROOM, City Hall Wing, Basement 1, National Gallery Singapore
PARTICIPATING SINGAPORE-BASED ARTISTS:
Andreas Schlegel, Bani Haykal, Debbie Ding, Ong Kian Peng, Zai Tang
ENGAGMENT – WRITERS:
Elie During, Rodrigo Gonsalves, Amy Ireland, AndreaPerunović, Federico Ruberto
PARTICIPATING OVERSEAS RESPONDERS:
altermodernists (HK)
[Curator: Elaine Wong + Artist: Jeff Leung] Interdisciplinary Art Festival Tokyo (JP)
[Curator: Sung Nam Han + Artist: Shuhei Nishiyama] tamtamART (TW)
[Curators: Wen-Chi Wang, Wei-Ming Ho & Yun-Ting Hung + Artists: Tsan-Cheng Wu, Chih-Ming Fan, Lien-Cheng Wang, Hsien-Yu Cheng, Ya-Wen Fu, Chao-Hao Liao, Chih-Hung Chen, David Rodríguez Gimeno & Nao Nishihara]
Total Museum of Contemporary Art (KR)
[Curator: Seungah Lee + Artist: Anna Kim]
Tropical Futures Institute (PH)
[Curator: Chris Fussner + Artists: MORAKANA, Tiri Kananuruk & Sebastián Morales]
GENERAL CREDITS
Platform and Exhibition Co-curated by: INTER–MISSION (Urich Lau and Yue Han Teow) and formAxioms (Eva Castro and Federico Ruberto) Design by:
Currency
Interactive Plot Development by:
formAxioms
Immersive Experiences and Artists' Interactive Environments Designed and Developed by: formAxioms